This lesson goes along with the Washington, DC Gallery.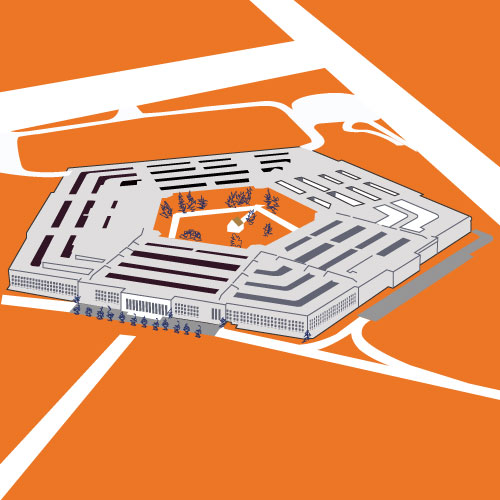 | | | |
| --- | --- | --- |
| Arts & Crafts, Service, Social Studies, Language Arts | 3rd, 4th, 5thh | Create a Pentagon 9/11 fact book. |
| Activity Prep | Materials | Heart Badges |
| None | Pentagon Book template, Pencils, Markers/crayons, Scissors | General |
INTRODUCE
EXPLAIN: The Pentagon is the headquarters of the Department of Defense, it was that before 9/11 and continues to be the headquarters today. It is called The Pentagon because it is shaped that way, and actually includes 5 smaller pentagon rings inside the outside shape. It is home to the military.
DISCUSS: What are the branches of the military?
EXPLAIN: In fact, the Pentagon was undergoing renovations on 9/11, which meant that some people who might have otherwise been working at the crash site had left their offices.
EXPLORE
VISIT: Washington, DC Gallery on the 9/11 Lesson site: https://911lesson.org/washington-dc/
INSTRUCT:
Explore the Washington, DC Gallery.
Find the answer to these 5 questions:

Who is someone in the attack or aftermath that you admire?
What is something you learned about the attack?
What branches did the military members who died represent?
How is 9/11 commemorated at the Pentagon?
How can you remember what happened at the Pentagon?

Create a Pentagon book of these answers.
Decorate your book.
Share your book with a friend.
CONNECT
DISCUSS: The Pentagon used the 9/11 attacks to become more prepared to address terrorism in the future. How can you use something bad that happened to become more prepared for the future?